PRINT ONLY PRICING (CUSTOMER PROVIDED GARMENT)
| | | | | | | | | | | |
| --- | --- | --- | --- | --- | --- | --- | --- | --- | --- | --- |
| 12-35 | $8.00 | $9.50 | x | x | x | x | x | x | x | x |
| 36-49 | $5.60 | $6.45 | $7.30 | x | x | x | x | x | x | x |
| 50-99 | $4.15 | $4.55 | $4.95 | $5.35 | $5.75 | $6.15 | $6.55 | $6.95 | $7.35 | $7.75 |
| 100-199 | $1.35 | $1.70 | $2.05 | $2.40 | $2.75 | $3.10 | $3.45 | $3.80 | $4.15 | $4.50 |
| 200-499 | $1.15 | $1.40 | $1.65 | $1.90 | $2.15 | $2.40 | $2.65 | $2.90 | $3.15 | $3.40 |
| 500-999 | $0.90 | $1.10 | $1.30 | $1.55 | $1.75 | $1.95 | $2.15 | $2.35 | $2.55 | $2.75 |
| 1000 + | Call | | | | | | | | | |
Additional Location Pricing
| | | | | | | | | | | |
| --- | --- | --- | --- | --- | --- | --- | --- | --- | --- | --- |
| 12 -35 | $ 4.20 | $5.70 | x | x | x | x | x | x | x | x |
| 36- 49 | $3.00 | $3.85 | $4.70 | x | x | x | x | x | x | x |
| 50-99 | $2.05 | $2.45 | $2.85 | $3.25 | $3.65 | $4.05 | $4.45 | $4.85 | $5.25 | $5.65 |
| 100-199 | $1.55 | $1.90 | $2.25 | $2.60 | $2.95 | $3.30 | $3.65 | $4.00 | $4.35 | $4.70 |
| 200-499 | $1.30 | $1.55 | $1.80 | $2.05 | $2.30 | $2.55 | $2.80 | $3.05 | $3.30 | $3.55 |
| 500-999 | $1.05 | $1.25 | $1.45 | $1.65 | $1.85 | $2.05 | $2.25 | $2.45 | $2.65 | $2.85 |
| 1000 + | Call | | | | | | | | | |
* = Add $0.20 for white ink
| | |
| --- | --- |
| Upcharge for 3XL, 4XL, 5XL | $3.20 |
| Color Separation | $15.00 Per Color required |
| Ink color change | $10.00 Per Color required |
| Art redraw (low res to high res image) | $25.00 per image (most images) |
| In house art design | $15.00 per 1/2 hour |
| Custom ink mixing | $20.00 per custom color |
| | | | | | |
| --- | --- | --- | --- | --- | --- |
| Screen printed tag | $1.70 | $1.50 | $1.15 | $1.00 | $0.90 |
Printed tags can only be 1-Color and require a 50 Piece Minimum. 4"
x 4" Max Print Size. Adds up to 1 week to turnaround time. Printed
tags on white shirts may show through the back of the shirt.
Product Catalog & Pricing
CUSTOM T-SHIRT & APPAREL SCREEN PRINTING IN THE HEART OF DOWNTOWN KANSAS CITY
We make ordering custom t-shirts and apparel the way it should be. Quick, cheap, and easy.
We have done away with screen setup fees to further our commitment to low costs.
We offer a catalog of over 2000 different garment options. Our two most common and popular T-shirts are the Gildan 2000 (ultra Cotton) and 5000 (heavy Cotton).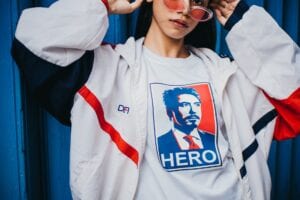 12 piece minimum

Free local shipping over $500

5-10 business day turnaroundMaster level quality

Discounts for Schools and Church

Fast, easy order and payment processFast reliable shipping
How do we get our prices?
Because screen print quality can vary from shop to shop, pricing can vary significantly. We build an average printing markup from top printing companies around the country and simply apply it to the garment cost. I would like links to the main catalog for people looking for items outside our recommended styles below.
Info we need to price your order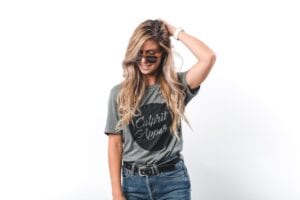 What Kind - t-shirt, sweatshirt tank tops, polo shirts, etc
What style - standard t-shirt, 100% cotton, heavyweight, etc
Quantity - how many of each size.
Print locations - Front, left chest, back, sleeve, etc
Is your art high enough resolution to print?
Visit here for art guidelines and formats
Need help designing an image or logo? We do that too! Tell us what you have in mind.
Ready to get started?